In C\:>how2become (data) & dissolve_into: 'tears' performance and performativity migrate from the physical space into the virtual realm. The performers' bodies and theatrical space itself are dematerialized and originate new digital interactions and non-anthropomorphic possibilities of representation. Following transmedia premises, the narrative is divided into four chapters, each corresponding to a different medium.
Chapter 1 – From November 20th to December 17th
PERFORMATIVE BOOK
Audience members that purchase a ticket during this period will receive the first chapter of this performative event in book format.
Chapter 2 – January 4th to 9th between 2PM and 10PM at TBA
ONE-TO-ONE MEETINGS
In this chapter, audience members that have already purchased tickets will be invited by telephone for an individual meeting with the performers.
Duration: 30 min.
Chapter 3 – January 18th to 22nd 7:30 pm, in the Main Room of the TBA
The third chapter happens on stage in the Main Auditorium of TBA.
Duration: 65 min.(approx.)
Chapter 4 – From January 18th, 2022, onwards.
The last chapter of the event can be accessed online HERE.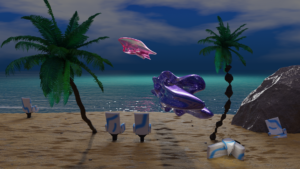 CREDITS
Artistic director and performer João Estevens
Cocreators and performers Francisco Belard, João Abreu, Paula Sá Nogueira and Paulo Pascoal
Sound Design Miguel Lucas Mendes
3D Animation S4RA
Dramaturgy support Ana Veiga Riscado
Light design Miloš Vujković
Design Marco Balesteros
Video João Cristóvão Leitão
Video and Production Assistant André Picardo
Website Jules Barbier and Joana Sousa
Production Associação Cultural Rabbit Hole
Diffusion and circulation Mikado Blue
Coproduced by Teatro do Bairro Alto and Teatro Viriato
Financial supported by República Portuguesa – Cultura I DGARTES – Direção-Geral das Artes, Open Access – Creative Europe
With the support of 5ACLUB, Cão Solteiro, Polo das Gaivotas | Câmara Municipal de Lisboa, Rua das Gaivotas 6/Teatro Praga
Acknowledgments Daniel Pereira, Mariana Sá Nogueira, Paula Cunha