Young Emerging Performers
CONCLAVE
Rabbit Hole
OCTOBER 12-14, 2018
FRIDAY and SATURDAY | 6:30PM & SUNDAY | 6PM
Rabbit Hole hereby summons a conclave, to have its profane and holy event in Rua das Gaivotas6 in Lisbon. An installation and performance event, which brings together 8 projects from different artists of the collective.
ZINE CONCLAVE
◣

CHUVA DURADOIRA

◥
Artur Jóia and João Robalo
Installation with micro-performances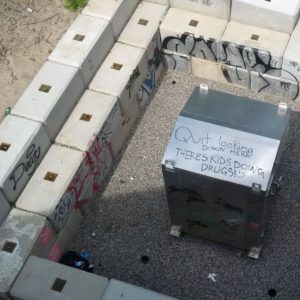 Performer, poet, an incursor in the pitgo arts and live architecture. Presents "golden rain" – an installation in continuous deconstruction or construction. Installation to be punctually inhabited by improvised readings from the integral writings of Jóia.
◣

QUANDO SE CONSEGUE VER O FIM DAS COISAS

◥

Joana Sousa
Video Installation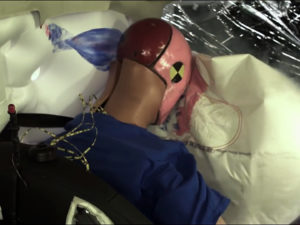 Dissolving our bodies in the flow of all other matters is a familiar impulse. The fear of letting ourselves be assimilated is the fear of losing ourselves in an apocalypse.
"Quando se consegue ver o fim das coisas" is an immersive audiovisual installation.
◣

WWW.WE WANT WAFLES #1.2

◥

João Estevens
Video-performance Installation
In a time of boredom, where is fun? In a time of productive action, when to stop? In the overload of information, what affects?
www.we want waffles #1 is a research project and a performance series working within the perception mechanisms and the issues affecting us in the digital era. To do so we explore digital tools to compose a multi-layered choreography, to communicate between each other and to generate actions. Through creating playful and melancholic journeys we shift the perception of the world to a laptop screen and we (re)discover our own voice.
In www.we want waffles #1.2 the performer seems to be absent. There is only the internet and an omniscient narrator of images, sometimes lost in the description of cities by night around the world, sometimes struggling to cope with some online loneliness. By embodying a drone spirit, we propose a virtual tour around the world that may be stopped anytime to engage into some meaningful interaction with the visitors. Take your time. This is a video installation-performance that should last between five minutes and one thousand and fifty-five minutes.
◣

THE WORMHOLE

◥

Mariana Nobre Vieira
Durational performance and Installation-performance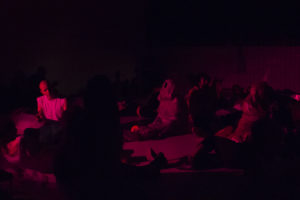 A wormhole can be visualized as a tunnel with two ends, each at separate points in spacetime. It could connect extremely long distances such as a billion light years or more, short distances such as a few meters, different universes, or different points in time. (in wikipedia)
This wormhole is a an ongoing project bringing together a mixture of videos, plastic toys and a worm who navigates through space and time spreading bits and pieces of a broken performance. It began with an intestine inhabited by pinworms and developed into a practice of parasiting the interstices of performative locations and gatherings where the worm invites itself into.
◣

ENDLAND

◥

Mafalda Miranda Jacinto
Theatre piece [work in progress]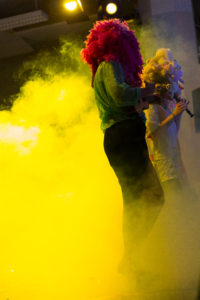 ENDLAND is a space with boundaries. A playground cage. Endland is a wild world where nothing happens. It is an in-between place: You have left somewhere, but you have not arrived anywhere yet. Endland was meant to be a party, but nobody is having fun.
"ENDLAND" is a visual theatre piece for three performers and a RC car. Without using any text, "Endland" explores a strong visual and colourful imaginary, proposing an absurd and surrealistic environment. Through the ridiculous and the seriously absurd, three creatures will try to find their direction and to create their own party in an empty, but still chaotic, cage. The performers will be wearing costumes that will enhance the non-human, and the relationship of these creatures with the space and with the objects they are given.
◣

COMPLEX OF FLUIDS

◥

Pedro Marum
Film projection & sound guided performance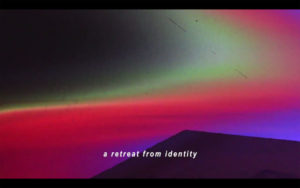 Complex of Fluids proposes alternate methods of curation, performance, and overall, of being-together. Activating a collective exercise of LARP (live-action role-playing) while borrowing insights of alien phenomenology, Pedro Marum organizes a meditatively curated visual and sonic performance.
◣

I  THOUGHT I KNEW IT, BUT AFTER ALL I DON'T…

◥

Sara Leite
Durational performative installation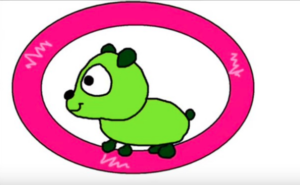 It's like u know like when u lose ur phone card and u catch urself thinking that u are actually more chilled like that but then people around u get all stressed and u don't even know if u are necessary or if this means it is irresponsible if you want to do a nap for 24 hours. Alright, u r between 2 jobs and u r more or less responsible 4 a cat and a half… but FUCK… I want 2 go for a run without having a schedule 2 be somewhere without even knowing.
Anyway, it is also like being chill with stuff u left undone, and u can't thankfully be independent… it's like depression sunnyside, or maybe also dark side, but not with a lot of pression.
◣

CREDITS

◥

◖+◗IMAGE AND DESIGN  Joana Sousa ◖+◗VIDEO ARCHIVE João Leitão ◖+◗PRODUCTION Mafalda Miranda Jacinto ◖+◗FINANCIAL SUPPORT Fundação GDA ◖+◗◖+◗SUPPORT Rua das Gaivotas 6, Espaço do Tempo, Forum Dança.

This project is presented within Young Emerging Performers, a result of the partnership between Rua das Gaivotas 6 and Espaço do Tempo.
◣

TICKETS

◥

∅ 5€ ~ daily ticket

∅ 10€ ~ ALL of the days

Bookings
Ticket office open 30 minutes prior to the beginning of the performance
(+351) 912 191 940 (week days from 4pm to 8pm, on performance days from 4pm until its beginning) ruadasgaivotas@teatropraga.com
◣

PRESS

◥

>> 12.10.2018. "Conclave: performance contemporânea" in Domínio Público na rádio Antena 3. Entrevista de Teresa Vieira. [+]

>> 12.10.2018. "A santidade Rabbit Hole reúne-se num fim-de-semana de performances" in Time Out Lisboa. Artigo de Clara Silva. [+]

>> 10.2018. "Conclave Rabbit Hole" in Agenda Cultural de Lisboa. [+]

>> 10.2018. "12 A 14 de Outubro Teatro Praga Acolhe "Conclave" do colectivo Rabbit Hole, no âmbito do Young Emerging Performers" in Agenda de Eventos DgArtes. [+]