TRIPLE BILL is the bill that god made, it's the triangle of reunification, it's the three sad tigers, but let's reveal all, confess, fictionalise.
Triple Bill. Triple Money (not really). Triple Fun (absolutely). Triple Labor (definitely). We passed 27, we didn't die. We reached 30, survived the return of Saturn, and kept going. In 2020 it will be seven years since Rabbit Hole started, with meetings, at Rua das Gaivotas 6 – it was still raining inside. There are studies that say that the human body takes seven years to recycle its cells. What about studies on the cellular recycling of a space, ideas, anyone? Anyway, seven years have passed. And we are the same but not. Same same but different.
And so, regardless of the veracity of the studies mentioned above, Triple Bill is a 3, created by 3 elements of Rabbit Hole that have been inhabiting Rua das Gaivotas 6 for the past 7 years. For 3 weeks we have a pink card for shows, installations, film cycles, parties, concerts, conversations, drinks and meetings. A dense, fractal, multiple program that you can check below. Read on.
[January 2020]
*TRIPLE BILL WAS A TRIAD THAT BEGAN TO BE DESIGNED BY 3 IN 2019, AT THE INVITATION OF PEDRO BARREIRO FOR A THREE-WEEK OCCUPATION AT RUA DAS GAIVOTAS 6. IT WILL DEBUT IN LISBON AS A TRANSDISCIPLINARY PERFORMATIVE EVENT IN DECEMBER 2021 AFTER SUCCESSIVE CANCELLATIONS. THIS TIME DESIGNED BY 2.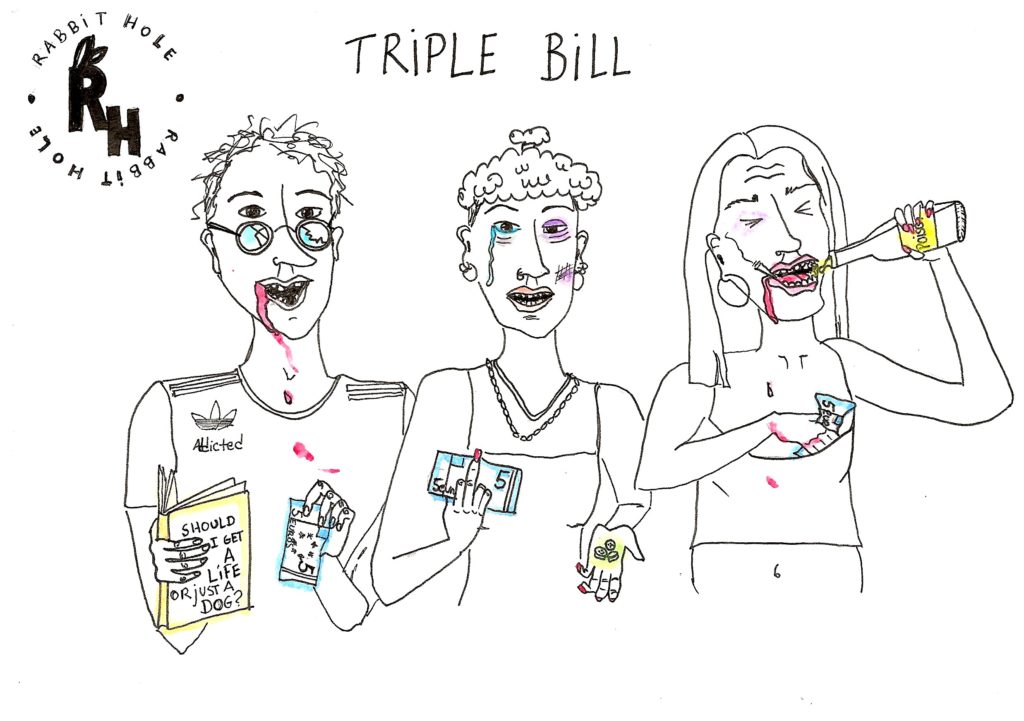 CREDITS
TRIPLE BILL IS A RABBIT HOLE PRODUCTION
CREATED BY João Estevens, Mafalda Miranda Jacinto e Mariana Nobre Vieira
ILLUSTRATION BY Mafalda Miranda Jacinto
GIANT HEART Silvana Ivaldi
ZINE DESIGN Daniel Pereira
PROJECT FUNDED BY Fundação Calouste Gulbenkian
INSTITUCIONAL PARTNER República Portuguesa – Ministério da Cultura
RESIDENCY SUPPORT 23 Milhas, O Espaço do Tempo, cão solteiro . residências120, TRUST Collective
ACKNOWLEDGEMENTS Bruno Esteves, Diogo Melo, Filipe Pureza, João Leitão, Joana Sousa, Pedro Barreiro, Rua das Gaivotas 6/ Teatro Praga, Silvana Ivaldi.